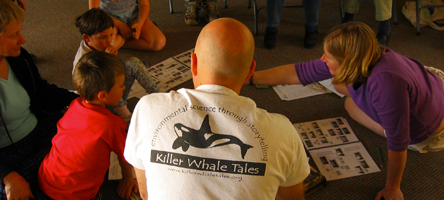 …a 501 (c) 3 environmental education program that uses storytelling and field based science to inspire students to take an active role in the conservation of Southern Resident Killer Whales and their habitat.
As schools face constrained resources, curriculum that inspires active participation in environmental protection has become rare. Teachers are hard pressed for time to develop compelling programming, and field-based educational opportunities are being taken off the table. Science education is more important than ever, yet our schools lack the most necessary resources to engage kids in science in the most compelling ways.
These shrinking resources come at a cost: as a generation of kids has less opportunity to explore the world around them in new and different ways, they can't develop an awareness and passion for the environment. We believe the key inherent to countering this is to give kids the opportunity to learn what science looks like in real life.
Meanwhile, Puget Sound's killer whales have been declared endangered, and the species continues to suffer from habitat degradation, prey depletion, and human-generated underwater sound. Immediate action is required to recover this population and ensure its long-term viability.
As inhabitants of the region, we all have a part to play in killer whale recovery. This immediate need, combined with the challenges faced by our education system, creates an ideal win-win scenario to teach children science and protect a species that is emblematic of the Pacific Northwest.
By introducing kids to those who have dedicated their lives to environmental work and creating a role for them to play in the scientific process, we ignite critical sparks that inspire a lifelong connection with the outdoors. Without this, we fear that fewer and fewer kids will serve as the environmental stewards of tomorrow.
Killer whales lend themselves spectacularly to science education. They are rooted in place, creating a tie to the schools we serve; killer whale social dynamics mirror humans in many ways, helping children relate; and, most importantly, the actions we take can have a direct positive impact on their survival. These factors in total present a perfect opportunity to introduce kids to environmental stewardship and action.
Killer Whale Tales inspires lifelong environmental stewardship for tens of thousands of students across the Pacific Northwest.
Children and adults alike understand the connection between their actions and the marine environment and make informed decisions in their everyday lifestyle that support a healthy, thriving population of Southern Resident Killer Whales.
Let's say your school has three classes interested in Killer Whale Tales, with a total of 100 students.   All 100 students will attend the 60 minute storytelling/lecture at the same time. After the presentation Killer Whale Tales instructors will lead the students through the hands-on exercises (in smaller groups of 1-2 classrooms at  60-minutes each), for up to 2 hours, depending on the activities you choose.  Hands-on activities can be added or deleted to fit your scheduling requirements.  A conservation wrap-up and take-home challenge follows.  After we receive your class' completed "Kids Making a Difference Now!" worksheets, your class/school will be invited to participate in a series of up to four (4) online follow-up sessions where we will discuss specific topics of whale research in more detail.
Our program has 4 distinct pieces:
Part One
Storytelling/Slide presentation (60 minutes)
Jeff falls asleep one night and dreams of becoming a killer whale.  He follows the matriarch of "J pod," and experiences the complex relationships whales share with each other and the environment around them.  Waking from the dream, Jeff returns to the real world with a new curiosity and the desire to make a difference.  The story is told through performance, slides, video and real orca calls.
Part Two
Activities (Up to 60 minutes)
Here we "bring the field to the classroom."  Students participate in experiential/role playing activities created to introduce them to current orca research.  Using data collected throughout the previous year, young researchers identify orca whales, track their movements, learn basic whale behaviors and practice their skills in real-time video exercises.  They will leave with a working understanding of the complexities of these magnificent animals and how dependent they are on a healthy and diverse environment. 
Click here for the activity descriptions and the EALR's they meet.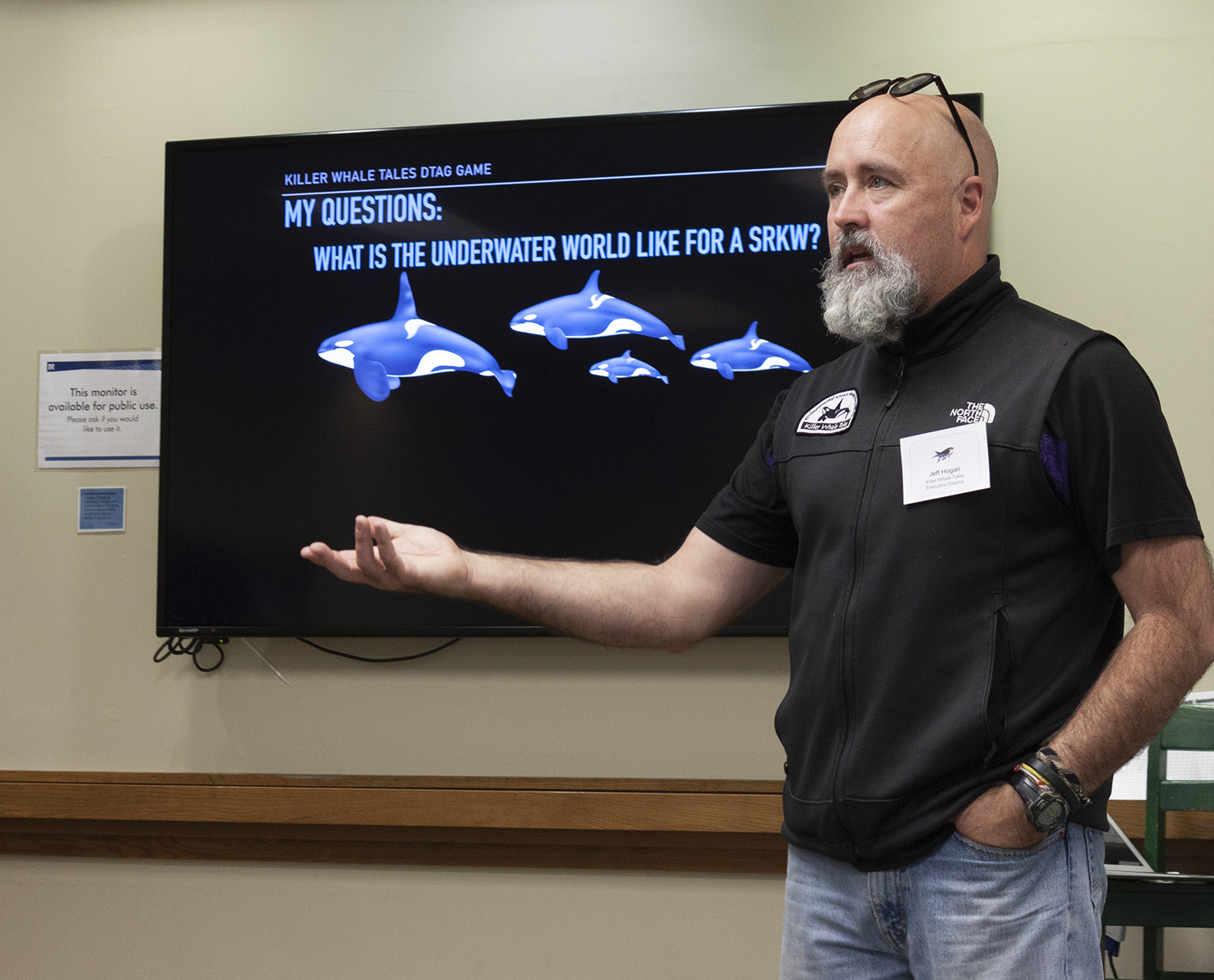 Part Three
Kids Making a Difference—Now! Conservation Project
This overnight activity challenges students to identify and record their ecological footprints and to mitigate their effects.  The activity starts with the participants examining and recording what they find in their home, noting things like their families purchasing choices and energy consumption.  With these baselines established, students are then given simple strategies to lessen their impact.  Students are then asked to return their results to their teacher and they in turn forward them on to us. During the final week, the students examine their results and note the significant changes that  they and their fellow students have made.   By the end of the school year, KWT will post the results from all participating schools on this website (view the 2017-2018 "Report Card"), proving what we believe- that kid's can make a difference-now!
Schools willing to complete this program activity can get our complete presentation gram at no expense to the school, thanks to the generous support of the Discuren Foundation, NOAA Fisheries, the Washington Endowment for the Environment, and from supporters like you.
Part Four (optional)
Deep Dive (up to four 60-minutes online sessions)
Each online session (held on Friday mornings) will involve multiple schools/classrooms and will allow students to learn more from Jeff or another orca scientists and from each other. Each session will begin with discussion of an in-depth topic (a specific whale behavior, the purpose and evolution of a specific set of anatomical features, a look at the life-cycle of the Southern Resident Killer Whale's primary food source – Chinook salmon, how to become an orca scientist, etc.) and will include an related interactive game followed by open forum for Questions and Answers.
Schools willing to complete this program activity can get our complete presentation gram at no expense to the school, thanks to the generous support of the Discuren Foundation, NOAA Fisheries, the Washington Endowment for the Environment, and from supporters like you.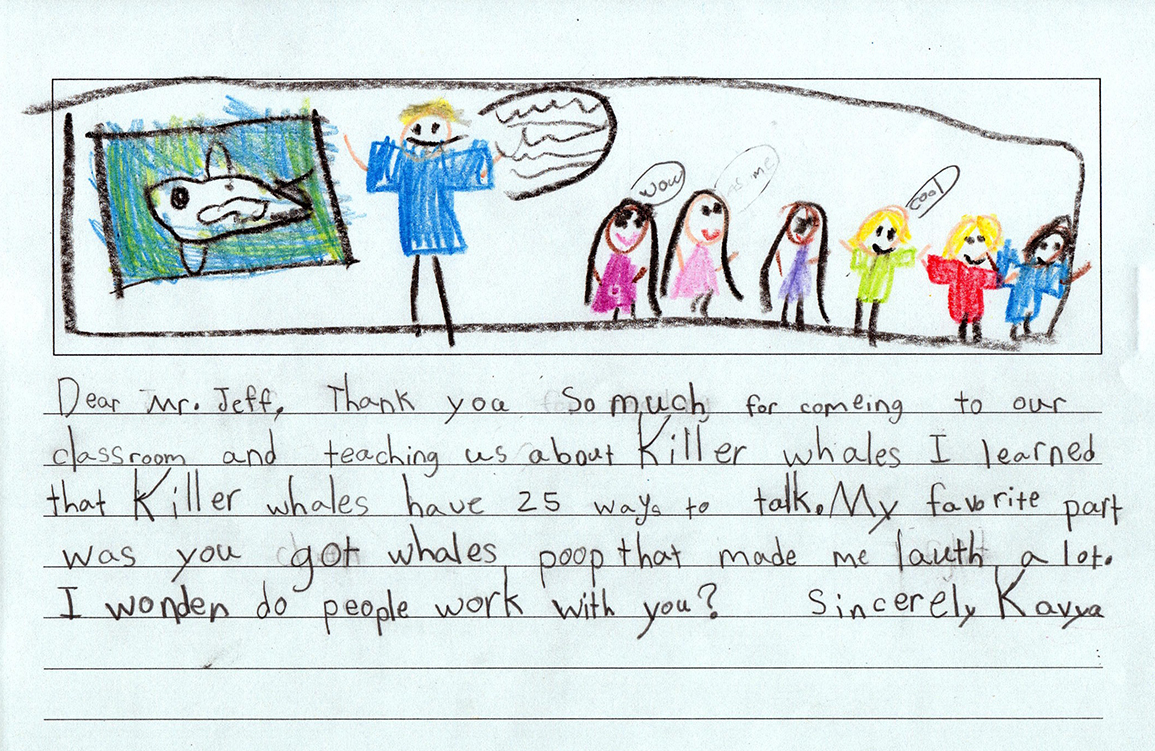 Through the generous support of the Discuren Charitable Trust, NOAA, Horizon's Foundation, and other individual and organizational donors, classes willing to complete the Kids Making a Difference-Now! (KMAD) overnight homework activity can receive the program free of charge. You will be asked to administer, collect and return the provided worksheets to our office within 2 weeks of the presentation date.
Schools not wishing to participate or unable to complete the KMAD Conservation activity can receive the program at $5 per student .
See our 2018 – 19 School Year KMAD results
Questions about our Program?