Photo taken under NOAA permit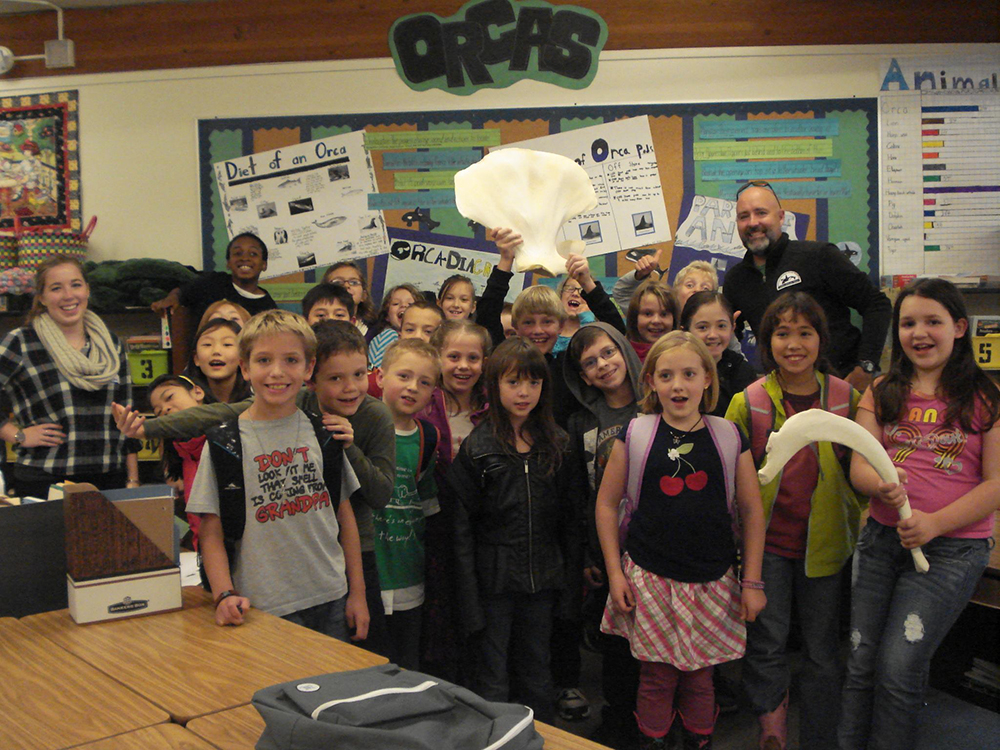 Each year, Killer Whale Tales visits schools throughout the Pacific Northwest, reaching 1000's of students with our unique blend of science and storytelling at no cost to the school. This is only possible through the generous support of our grantor's and folks like you. If you would like to help us reach an ever increasing amount of students, empowering them to learn about and protect our endangered whales, consider becoming a supporter through a tax deductible donation.
Brings our in-classroom program PLUS four online re-engagement sessions (our new Deep Dive program) to a full class of elementary school students
Brings our standard hands-on environmental science program to an entire class of 30 elementary students
Brings our program to 20 students
Provides our innovative programming to 10 students
Allows Killer Whale Tales to reach 5 students with our inspirational educational program
You can make a tax-deductible contribution to Killer Whale Tales by:
Killer Whale Tales
5623 46th Ave SW
Seattle WA, 98136
Transferring a gift of stock

Remembering Killer Whale Tales in your will
A matching gift from your employer may double or triple the impact of your gift; please consult your employee matching gift program for details
You can also support us when you shop at Fred Meyer! Select Killer Whale Tales as the organization you would like to support on your digital Fred Meyer Account. Every time you shop and use your Fred Meyer Rewards card or phone number, a portion of your purchase will be donated to KWT. Check out Fred Meyer Community Rewards for more information.
If you would like to make a contribution of time or services to Killer Whale Tales, please contact Jeff Hogan at 206-458-9863
Killer Whale Tales is a 501(c)(3) not-for-profit organization.
An Orca-Sized Thank You to Our Benefactors
Granny's (J-2)
Legacy Leaders
$20,000+
Mega's (L-41)
Membership
$10,000 – 19,000
Keta Legacy Foundation also known as Mountaineers Foundation
Discuren Charitable Foundation
CoHo's (L-108) Champions
$5,000 – 9,999
Saturna's (K-43) Supporters
$1,000 – 4,999
Eclipse's (J-41) Entourage
< $1000
Dozens of Wonderful Donors Like You!